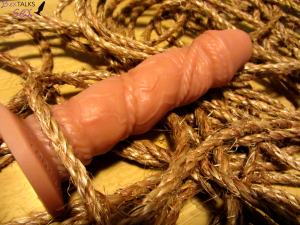 From the first time I set eyes on the Bound dildo from Vibeology I was so excited, it is unique and beautifully sculpted, and the product of two of my favorite companies, Tantus and SheVibe, working together. If you checked out my review you would know that the texture is a bit much for me but by dulling the intense texture with a metric crap-tonne of lube I'm able to feel the curves and shape of the toy; which happen to be pretty fantastic. Lucky for you all, I didn't buy only one Bound when it finally became available to the public, I bought one for you as well! Now this beautiful silicone piece of penis art can be yours to display, fondle, and fuck as you wish!
One of the best things about Bound is that it is the first CBT inspired dildo that I've ever seen. I'm always amazed that even with the thousands of toys available there are still designs and ideas for things that have never been done before and that I've never even thought of. Do you have any ideas for your own unique sex toy? Something you haven't seen before, or have always wanted before and never found? Get bonus points in the Rafflecopter Widget below for telling me all about your genius design in the comments, and even more if you accompany it with an artistic rendering of your toy. Draw it, doodle, watercolor, photoshop it, or scribble it on a piece of napkin in crayon, then scan it or snap a picture and upload it to a picture hosting site or post it to social media and include the link. It doesn't have to be perfect, or even good, just show me your ideas! For those of you that aren't as artistically inclined you can enter by following me around the internet (which you should probably want to do anyway, obviously) and sharing this contest with others. Now get to entering and get your hands on this beautiful toy!
 This giveaway is open world-wide to those 18 and over but those outside of the US will be required to pay for shipping.