I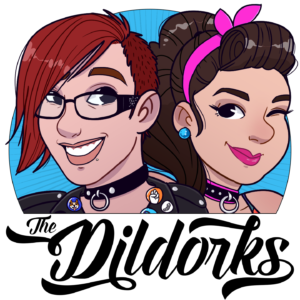 love podcasts. I started listening to them back in high school on road trips, long bus rides, while working on mindless tasks, or even during the occasional attempt at working out. The gym habit never stuck1 but the podcast addiction did, and it wasn't long before I was wondering what it would be like to create my own. What would it be about? Well, sex. Obviously. But what specific sexy niche would it fill? Who would be on it? What would it be called?
I bounced around ideas on my own for a while, knowing that it was a medium that would work for me, if only I could get the ball rolling. See, I feel like my strengths are rooted in public speaking, but video and audio production is hard. I didn't know where to start or how to filter my sea of thoughts into a cohesive project.
Then I met Kate, who has all kinds of amazing audio skills she cultivated through her music career and knew exactly what making a podcast entailed. She's a sex geek like me, anxious like me, and dorky like me. She's also the best friend I've ever had.
Since we're both notorious social media exhibitionists, professional oversharers as Crista might say, our friendship became a bit of a thing, it began to cultivate a social media presence all it's own. Every time we saw each other it was an event as we flooded the internet with selfies and out of context quotes, and yet somehow, y'all haven't gotten tired of us yet.
That was where The Dildorks was born, as a way to share with you our frequently hilarious, occasionally insightful, sometimes a little off the wall, and always delightfully dorky conversations about sex.
Our first episode is already live so you can listen to us discuss the history of our friendship, our sex geek origin stories, Sweden Manatees, sexual tension, and more- plus we've got a whole list of topics we're excited to cover. Future episodes will include kink, sex toys, blowjobs,2 queerness, submission, sexy events, fisting, butt stuff, spanking and more! What are some of the things you'd love to see us cover?
If you want to help support our new project you can follow us at @TheDildorks on Twitter and tweet your favorite part of our first episode! You can also subscribe to us on iTunes and write us a quick review, because those really really matter and help make us look awesome!
I need a gym Dom. But I think those are called personal trainers and they're expensive. [↩]
Duh. Have you met us? [↩]