[Like to watch? Check out my video review for the Entice Grace.]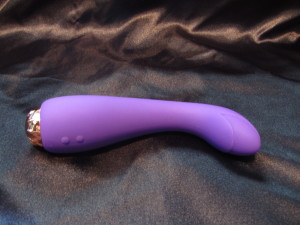 The Entice Grace is part of a new line of silicone vibrators from California Exotics Novelties known as Entice which includes some C-rings, various rabbits, and three other G-spot vibrators similar to the Grace. Each of the G-spot toys has a slightly more pronounced curve than it's sister, beginning with Olivia, which has the most shallow curve, then Grace which is more moderately curved, and finally Mae which is the most severely curved. Ava has a similar shape and curve to Olivia but has a much shorter neck.
Those with a deeper G-spot will prefer Olivia, and more shallow G-Spots will prefer Mae. If you are concerned about uncomfortable rubbing against the pubic bone but have a shallow G-Spot than Ava may work better for you. Grace sits in the middle ground and will probably work best for the widest variety of bodies. I love the idea of making one toy with varying degrees of a curve, it's like a silent tribute to women's differing bodies and it means this line can work for a diverse selection of people. Although the curve may see like it would work well for prostate stimulation I cannot recommend that you use this toy anally as it does not have a flared base to anchor it outside of the body.
This line is available in the three standard sex toy colors; a powder pink, a royal purple with a hint of blue, and 'raspberry' which is a bit of a mix between the two. The silicone1 is smooth and buttery to the touch and has very little drag. It does have a somewhat pronounced seam vertically along the shaft but I did not notice it in use.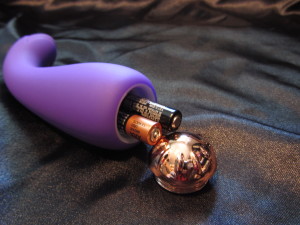 The overall design of the toy looks surprisingly fancy considering the price point it sells at, all except for the cheesy gold painted battery cover at the base. My first thought when looking at the toy was that this would be one of those twist style controls but this is not the case, the gold base is simply the cover for the batteries. The gold dome untwists to reveal the battery compartment which was disappointingly uninformative. I could not find any information as to which directions the batteries are to be inserted in so I just had to guess until I got it right. Turns out they should be inserted (-) facing out on the side of the curve and (+) facing out opposite that (as pictured). The battery compartment is protected by an o-ring and the packaging for the toy does claim that it is waterproof but after submerging the vibe for about 20 minutes I noticed some water in the battery compartment so I would say that it is water resistant but not entirely waterproof.
The base of the toy and the tip are both quite firm as they house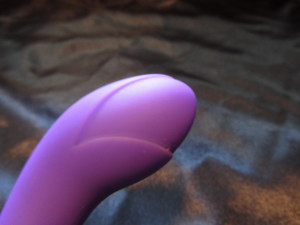 the electric components but the neck is hollow and although it holds firm when held up or shaken, it flexes very easily to the touch. The tip of Grace (and all of the G-spot toys in the Entice line) looks as if it was designed to resemble a budding flower. This small bit of texture is actually surprisingly stimulating when applied to the clitoris and vulva. The sensation of the pronounced and somewhat sharp ridge flicking felt great and got me warmed up, internally though, I hardly noticed the ridge at all. Due to the super flexible neck I honestly didn't expect great G-spot stimulation from this but I was pleasantly surprised. The tip felt much broader than it looks (I really hate pointy g-spot toys) and the pressure it put on my G-spot was firm and direct. It's obviously not as firm and intense as something like the Pure Wand or even a toy with incredibly firm and solid silicone like a Tantus toy, but it was still much better than expected. I find toys that are that intense to be a bit exhausting so I may instead choose a toy of this shape and intensity for a milder session.
It all sounds pretty good so far right? Yea, I thought so too, but then the folks had to go ahead and ruin what was, thus far, a pretty solid toy. They had to go ahead and put in it one of the weakest motors I have ever felt in a toy. It has a single power on/off button and a button with a squiggly line on it that controls the vibrations, of which there are three speeds and five pretty standard patterns, it has no memory, when you turn it off if returns to the first setting. When increasing the speed I barely feel it increase, instead it seems as though they simply get buzzier (which I didn't think was possible). While it's true the vibrations are focused only in this tip, this is simply because they are not strong enough to travel up the shaft at all.
Somehow the Entice Grace managed to both impress and disappoint me all at once. As a dildo, it worked surprisingly well, I didn't expect such pleasurable sensations from using the tip clitorally and the curve stimulated my G-spot so much better than I expected it to. Unfortunately the vibrations were not even close to acceptable, let alone pleasurable, they were so weak and buzzy that they had me itchy and annoyed way before they had me orgasmic. I considered using it only as a dildo in the future but it's just to plain for me for that. While it does work well, I have so many other toys that work better than this as a dildo, my Pure Wand will provide more intense pressure, and my Mustang feels so much more realistic on those days when I don't want super intense stimulation. My Mona 2 hits the middle ground on intensity of G-spot pressure, and that one actually vibrates with some power, and my Tantus G-spot vibrator is also a great middle ground if I don't want vibration.2
Overall, as a dildo, the Entice Grace is meh, works pretty well but I have so many other toys that will get the job done better.3 As a vibrator, this thing is a joke, I can't imagine anyone enjoying the astoundingly weak and buzzy vibrations this thing gives off. Luckily the price point is pretty low on this one and I think it could work great as a beginner G-spot dildo, but please, dear god, if you want vibrations steer clear of this toy.
***Thanks very much to California Exotics Novelties for providing the Entice Grace free of charge in exchange for a fair and honest review in compliance with the FTC guidelines.***
flame test approved [↩]
The vibrations on that are pathetic too. [↩]
Ah, the sad life of a sex blogger, too many toys. [↩]